"Heritage and Tourism" is the overarching theme of the 15th World Congress of the Organisation of World Heritage Cities, which will be held on 2-5 June 2019 in Krakow. Congress participants joining us from the capital of Małopolska from five continents will also join us at the "Wieliczka" Salt Mine.
Last year, we celebrated 40th anniversary of adding the historic treasures of the historic centre of Krakow and the "Wieliczka" Salt Mine to the UNESCO List of World Heritage Sites as some of the first sites in the world. During this time, both the city of Krakow and the Wieliczka mine – one of the oldest continuously operating industrial plants in Europe – have become tourist attractions attracting increasing numbers of visitors from all over the world. Including the mine on the list was fully justified. For centuries, visitors have been fascinated by the underground landscapes created by nature and shaped by the hands of miners. It is a unique monument of nature and human work.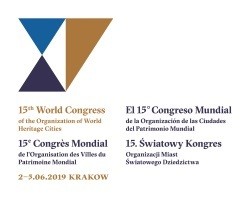 The common concern for the priceless treasures of world heritage gave rise to calls to establish the Organisation of World Heritage Cities (OWHC) in the early 1990s – on 8 September 1993 – which currently brings together nearly 300 cities housing sites included in the UNESCO List of World Heritage Sites.

One of the objectives of the OWHC is to foster cooperation and exchange of information and expertise on the protection and management of urban heritage. In pursuit of its objectives, the OWHC organises numerous meetings, including world congresses, conferences, seminars and workshops concerning tasks to be undertaken for the management and implementation of strategies for the protection and development of historical cities.

The upcoming 15th OWHC World Congress will be held in Krakow, Poland, on June 2-5 2019. The theme of the plenary sessions and workshops during this year's congress is "Heritage and Tourism: Local communities and visitors – sharing responsibilities". The "Wieliczka" Salt Mine was designated as one of the venues intended as meeting places for the congress participants. The guests will be welcomed by the "Wieliczka" Salt Mine Representative Brass Band. During an evening celebration in the Warszawa Chamber on 4 June 2019, the results of the election for the Board of Directors of the OWHC will be announced.